At first I thought I was going to skip this year all together simply because, as Queen Elizabeth once said about 1992, it has been an Annus horribilis. But after carefully reviewing my year objectively, I realize that it started off pretty amazing and although I went through a rough time, it ends pretty great too.
First of all I started the year wanting to do more within the quilting industry and deciding to close my quilt shop.  I was spending way too much time in accounting and human resources and not enough time quilting and writing.
Then I got a nice surprise in Spring when PlumEasy Patterns published my Dancing Diamonds pattern 6 months ahead of plan. I just loved going to Spring Quilt Market in Salt Lake City to promote it and meeting so many wonderful people in the industry.  I even got to thank Rob Appell for getting my boys to quilt!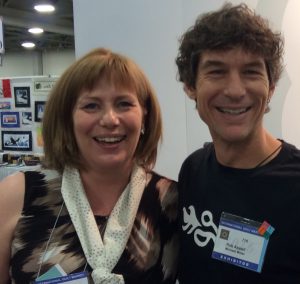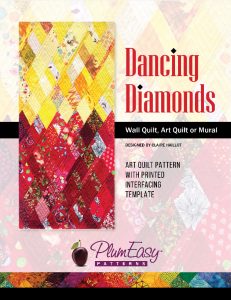 I returned home to officially close the shop and feature 2 quilts in shows.  I was surprised and happy to learn that they both received second place ribbons. They meant so much to me: My Sotchi quilt got me to write the Dancing Diamonds pattern and I had started the Lone Star many years ago and was filled with self-doubt throughout the process. Receiving the ribbons was a way for me to let go of the fear when making quilts.  It proved to me that I knew what I was doing and that I needed to trust myself a bit more.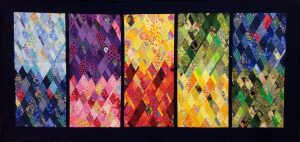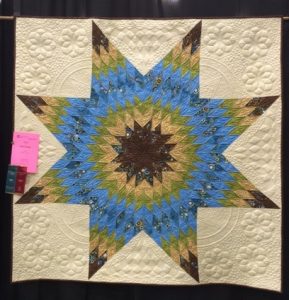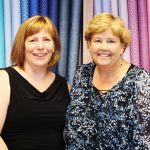 Filled with confidence, I got my dream job in the quilt industry and started having a blast.. I even had the pleasure of meeting Jenny from the Missouri Star Company!  What a treat!
Then came August…
All hell broke loose
A simple accident dancing with a glass of champagne and a cigar while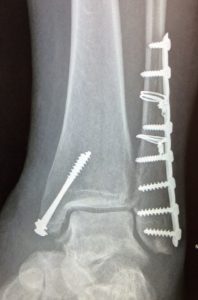 camping hours away from my home turned into a nightmare.  I didn't want anyone to know and kept silence for months but now I realize that this experience made me grow once more.
To make it simple: broken ankle = surgery = 6 weeks of bed rest = stress = infection = 4 days in hospital = loss of employment = loss of muscle mass = weak earthling = let's crawl under a quilt and never get out
But something extraordinary happened: When I closed my store I was expecting to lose all my friends that I had met through the years in the shop and within the industry. And it was quite a surprise to see them keeping in touch through my struggles.  Some simply called or wrote once in a while to ensure that I was OK, some brought me food, some cleaned my house and some created quilt groups to keep me quilting and connecting.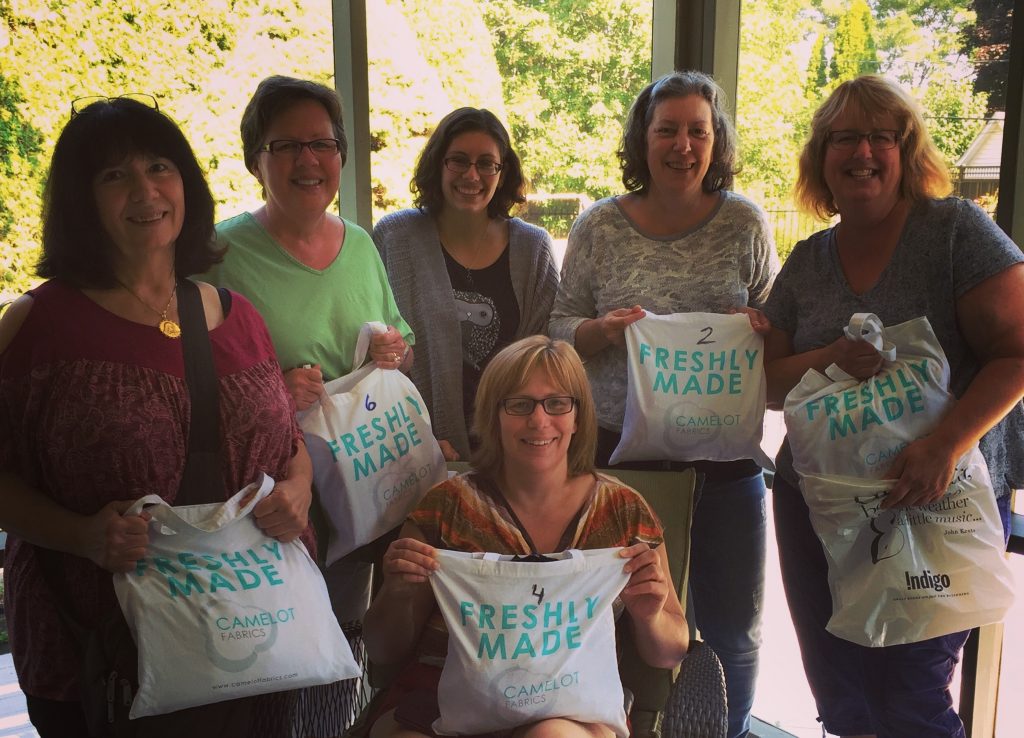 I can honestly say that if it was not for them, I would have probably given up on all my quilting dreams.  For a short time I had even moved my son's room in my quilting space saying that I wasn't going to be using that space anymore….
Let's fast forward to today:
I am finishing up a grueling 6 weeks rehabilitation program and am no longer walking like an old lady.  I have kicked my son out of my quilting space.  While moving my stuff back, I filed all the books and magazines in which I had written either a pattern or an article and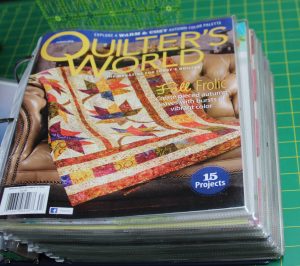 realized that I have been published over 25 times.  It reminded me that I love writing as much as I love quilting. So I reorganized once more my space to fit my sewing machine and my computer. I am very happy as I already have a few articles to prepare for 2017.
I also realized that I love teaching and have been booking classes and seminars in quilt shops and shows for 2017.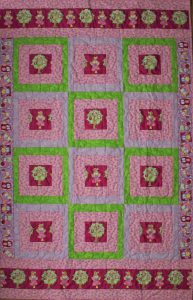 As for quilting: I made a quilt for my cousin in Germany who just had a beautiful baby girl. That quilt is special for many reasons: it's the first time I get to make a quilt for a GIRL  and so I used a LOT of pink, I also decided to let go of my habits meaning that I didn't write a pattern as I made it ! I made it just for FUN. And that felt good. I need to be doing that more in 2017.
There is a quote from George S. Patton Jr. that I love:
"The test of success is not what you do when you are on top. Success is how high you bounce when you hit the bottom."
So that's my year in 9 pictures.
Wishing you all the best for the new year!
let's enjoy 2017 and see what happens!