Hello everybody!
I wish you only the very best for 2017.
If you are looking for New Year's resolutions, have some suggestions for you:
I have recently received many comments about my blog and wish to thank you for them because sometimes I wonder whether the time spent writing a blog is relevant. So the first New Year's resolution would be to TAKE THE TIME to write a comment after reading each blog to confirm that you have read it. You do not need to write a novel … simply "Thank you" or "Interesting " or "Check :-)". If you really enjoyed the topic, than please do share on your social networks: YOU hold the key to my visibility.
The next resolution will be in your sewing room: EXPERIMENT! Meaning have fun and give yourself the right to try things for the simple pleasure of saying that you just had to play with the idea.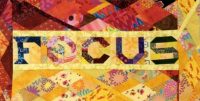 You know that last year my key word was FOCUS! I needed it very much because I had to refocus and find my roots. I had difficulty defining my true values, the values ​​I wish to convey to my children. The year has been quite a roller coaster but I have never lost my FOCUS in life, but by too much focus I lost something in my artistic creation. I needed focus to finish writing my Dancing Diamond pattern and prepare samples. But afterwards, I realized that having too much focus in my studio lead me to miss out on new creative ideas. So that's why I choose EXPERIMENT this year. But to be very clear: I am keeping that word in my studio only.
By talking to my friends about my new word, I am told that it becomes difficult to EXPERIMENT when we are alone at home. I am often reminded that it was easy to come and see me at the quilt shop for inspiration and that the closing of the store left a great void. So I propose to keep on helping YOU via this blog throughout the year!
I have the firm intention of introducing a new subject every month that will help you EXPERIMENT.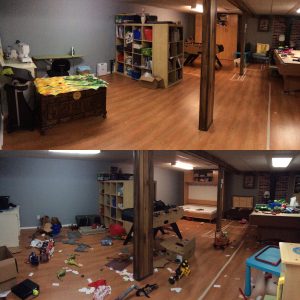 For the month of January, it will not be very complicated … I suggest a massive clean-up in your studio … because it is not a sewing room this year … no no. .. it is a STUDIO. Review the 12 steps to successful quiltmaking and make sure you have room to cut, sew and iron. And don't forget you design wall! If you need a refreshment, I will give the lecture at Club Tissus in Laval on January 22nd at 10am and at the Quilty Pleasures quilt shop in Orleans on February 4th at 10am. I hope to see you there.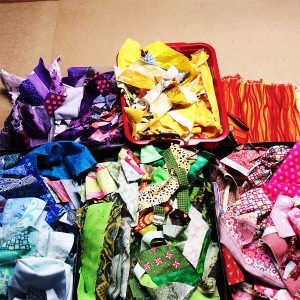 Also organize your scraps. Find the system that works for you. I love my box system. I classify my scraps (smaller size than a Fat Quarter) per color. So my blue box contains my blue fabrics, green … you guess? I put my Fat Quarter formats in open boxes so I can see them. And I have some rolls of fabric that are on a shelf. I do not want to have too many scraps either.
I also have projects that are stored in special boxes, or suitcase, with all the fabrics I need. I have about 4 projects and I will finish them whenever I so desire. I do not pressure myself … sometimes we have to accept that if we do not finish a project it is because something is wrong and we have not yet found the solution. In 2016 I finished several projects (thanks to my focus) so these last 4 … I am ready to say that they will end up transformed into another project according to my EXPERIMENTATION. So make a list of the projects you have in progress and tell you which ones need to be completed and set goals. The others will be set aside to reflect.
Now look at all your scraps. If you have too many, tell yourself your new resolution will be to not buy any more fabrics until you have used a good portion of your scraps. If you can't live with this plan, then go through your scraps and put those that you don't like anymore aside (yes, your taste can change) and donate them to a guild or a Renaissance center near you. I made a huge donation last fall at our local bazaar: threads, fabrics and other tools that I knew I would no longer use. You must let go of things that do not represent you anymore to leave room to the new you!
If you find that you are not overloaded with fabrics (this is a very personal matter and you should not judge) it is time to look to see if you have a nice array of colors and basics. We often tend to buy fabrics in our favorite colors, but to experiment you really have to have all the colors … so pay attention to the colors you are lacking and make a list for your next purchases. You also need to make sure that you have a good amount of basic colors … neutral. I must confess I let myself be tempted on this point. I got 3 Fat Quarter kits from Henry Glass that allowed me to get some neutral colors that I missed. Since I am often not alone in having the same ideas, I decided to put the fat quarter bundles on my website in case you would like them too. But they are only available for the month of January.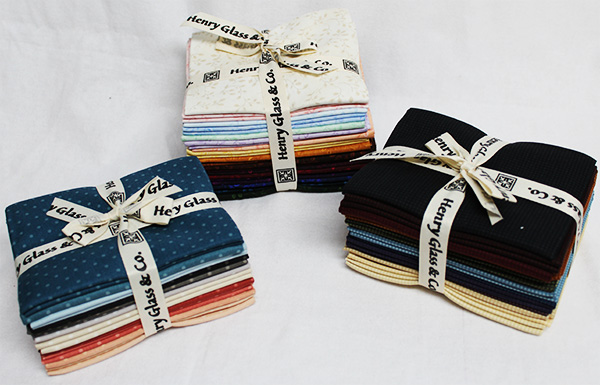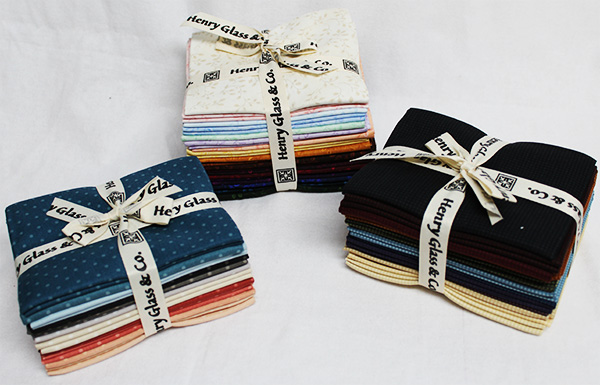 So here are the resolutions that I propose to you this year! I hope you will be several to participate. If you want to spend the year exchanging on my blog, do not hesitate to show a picture of your studio or your organized scraps.
I count on you to motivate me, to motivate you.