In keeping up with the word of the year: Experiment!  I have another way to get you going for the month of March!
Just to keep track of our monthly goals to experiment in 2017, I had suggested in January to clean up your studio and organize your scraps.  In February I had suggested that you experiment with colours, trying out a new pattern with a colourway that you would have never picked out on your own.
How did it go?
If you have fallen short on your monthly goals, this one is sure to jump-start your experimenting resolution.  Here is your goal for March:
TAKE A QUILTING CLASS!
That's correct!  Go to a local quilt shop, guild or a private group and pick out a quilting class and reserve your spot! It can be a seminar if you are too afraid of a real sewing class, but get out of your studio, remove yourself from your daily surroundings and prepare to be immersed in someone else's crazy creativity!  Cause that's what it is all about!
I so often hear people say: hum… not sure if I will get anything out of that class!
How about:
Meeting a new teacher:  I always love to meet new teachers and hearing their journey.
Meeting new quilters: Believe it or not, the other students in the classroom can become your new quilting buddies.  I have seen many quilters bond and become good friends, no matter the age difference.
Learning something new: The whole subject of the class can be new, but sometimes you will learn one little trick that will make all the difference in your quilting journey.
Making a new project: Yes!  You will have started a new project that will jump start your creativity in so many ways.
And to get the ball rolling: I TOOK A CLASS!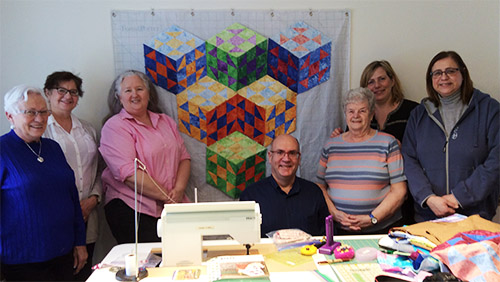 Yes!  I have taken a class!  I actually love taking classes, most of the time I will prefer attending seminars as I don't have much time to myself.  But this year, I decided to take a real sewing class.  And as luck would have it there was an opening in a private group for a technic that I had been trying to figure out on my own for years with a teacher I had never met yet and wanted to!
I signed up for a full day class with Paul Léger on More Patchwork Illusions.  Paul showed us how to create a 3D Illusion patchwork cube.  I really loved the class.  I had sworn to never do Y seams in my life and here I was making it with ease and all excited to see the 3D effect.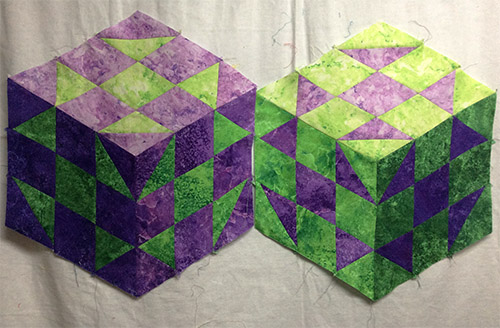 I must admit that I was stressed taking the class as I had to sew in front of people!  I know I tend to have an attention deficit disorder and sew everything in the reverse order (kind of like dyslexia).  And to top it all off my ankle was really hurting that day!  So I didn't talk as much as I would have liked to with all the other students.  I was really too concentrated.
But my block was finished by the end of the 6 hours class and it is now on my design wall as I am playing with my fabric stash to make more while I await my precious order of Stonehenge fabrics from Northcott.
That will be my experiment for the month of March.
Sew go ahead and sign up for a quilting class!  Commit to your experimenting!  Leave a comment saying where you're from and which class you've registered in… perhaps you'll meet another follower in that class!  I promise to show you my progress on this project in a later blog!