Earlier this month I offered you to experiment with colors for the month of February.
"Try a project using a color you have never used before, I dare you to try with a color you actually hate!  I did that one year and it was my first pattern that got published by Quilter's World!  This time I've decided that I was going to experiment using all the colors of the rainbow."
So here are the details of my experiment!
I had been playing with my new pattern Dancing Diamonds for the past year and I had always used only two color ways to make my samples.  So I decided that I should experience by using more colors. And that's when the idea of making a rainbow came to mind.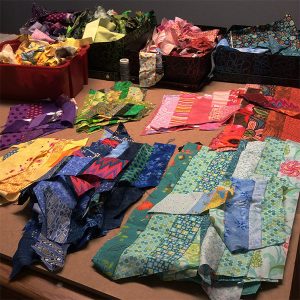 I started by pulling my fabric stash out and picking my favorite fabrics to express a rainbow.
Then I started placing them on the Dancing Diamonds template and sewing the strips together.
By the end of the day, my rainbow was finished.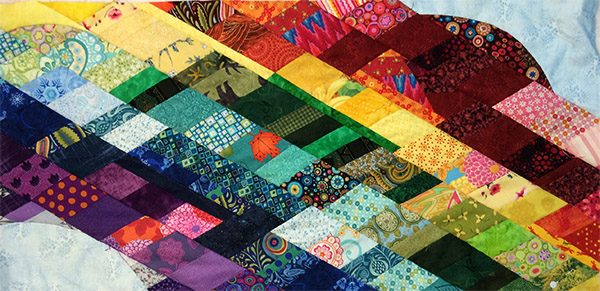 I must admit that it looked much better in my head when I was envisioning it.  I was tempted to not even talk about it on my blog.  But this is a journey to experiment which means that we must take risks and sometimes fail.  But this experiment only convinced me to try again. The next morning I went back into my studio and tried something new: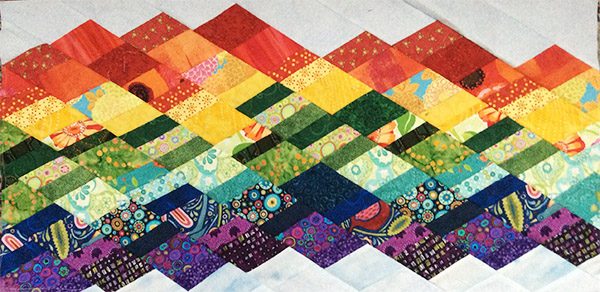 I was almost done when we encountered a power shortage!  I was in a panic… I needed to finish it!  So my son agreed to help me out by holding flashlights while I was making the final stitches and cuts.  When I was done, he finally said: "Looks like a rainbow".  I was overjoyed!  Finally people saw what I was seeing!  But he also said that it wasn't convincing enough.  My son is only 14 years old yet he possesses a sharp eye and has never steered me wrong.  So I agreed to go add it one more time.
The next morning we left for a long weekend at my parent's place and I packed all my things in a box to bring along with us… quite stressful!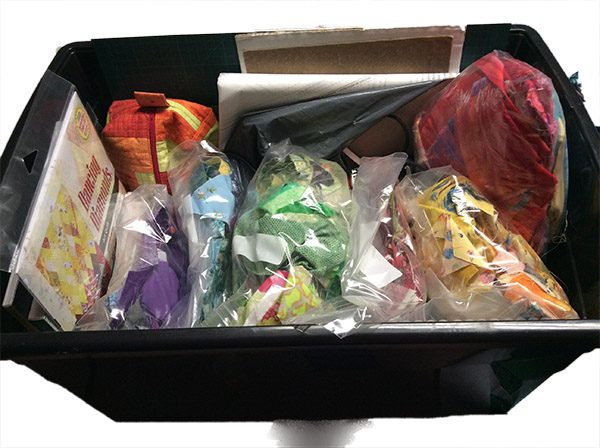 The following morning I woke up bright and early, my dad was waiting for me in the kitchen with my coffee and breakfast!  We had transformed their kitchen dining area into my studio for the occasion and he was eager to see me get to work (I really love my dad!)  I had printed the Dancing Diamond template on a legal size paper and was about to start folding the seams to see how the angles in the seam allowance affected fabric position.  So he volunteered to fold the paper and draw the rainbow.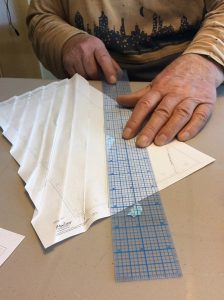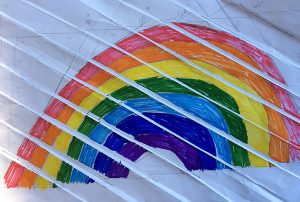 When all the math calculations were done, I spent the rest of the day reproducing the rainbow with fabrics and am quite pleased with the result.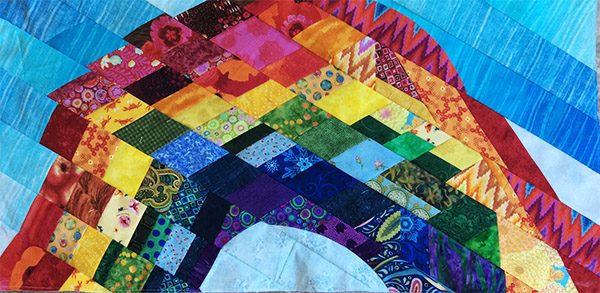 I hope you understand how experimenting is an important part of quilt making!  It's important to remember that every quilt is a part of our journey to better understand the process.  As I have always said: We are one quilt away from perfection!
Now it's your turn!  Let me see what you've been working on by commenting below.