One of my personal goals for 2017 is to feature a Canadian Artist every month on my blog.  I have written a few Meet the Designer segments in Quilter's World and thought that I should start the same segment on my blog to celebrate our local talent!   And I believe this is the year to start as we are celebrating Canada's 150th birthday.
Do not hesitate to make suggestions in the comments section below!
It is with great pleasure that I begin this adventure by introducing:
I would like to say that we met on a sunny day, but it was quite the opposite! There was a lot of snow involved!  But that did not stop me from driving to Orleans in Ontario, to meet up with him.
Okay, so where do I start?
Paul is the first to admit his surprise:  Nothing led him to become a Quilting Artist!  It all began thanks to his mother who told him to buy a sewing machine in case of emergencies!  And that's what he did once he joined the Army.  The machine followed him everywhere.
He made his first quilt in the 1990s while living in British Columbia.  He took his first class a bit later once he was stationed in Barrie Ontario.  It was only in 1996, after being transferred to Ottawa, that he signed up in a guild where he continued to improve his workmanship.
You have probably guessed that it's not easy to find male quilters, so Paul met others through a private group on the internet. I have to say that I understand his quest.  It was not common to find a man in my quilt shop! And I remember the astonishment of the ladies when they would realize that they were there for them and not for their spouses!
In 2008 the group decided to organize a quilt retreat exclusively for men!  The very first retreat took place in Woodstock NY and seven men came from all over North America to participate. The retreats are now held twice a year. There will be 21 man cave quilters in Vermont this spring! Paul has become the spokesperson of these retreats.  He is proud of the group of artists participating and they have all become friends through the years.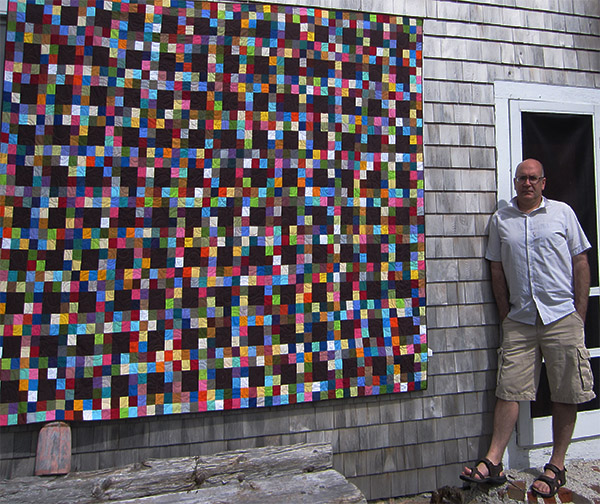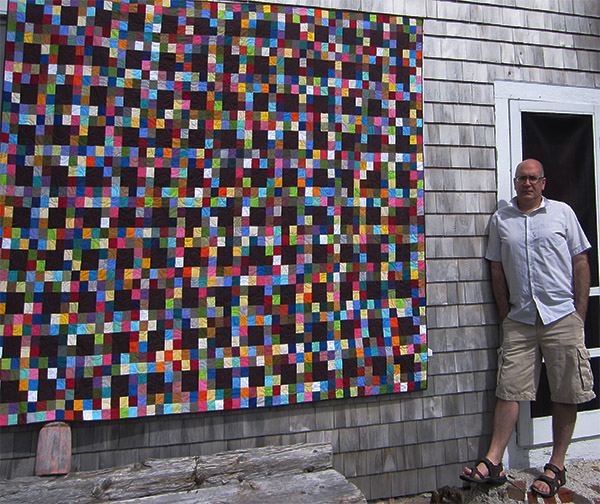 In 2011, Paul was featured in Quilts by men exhibit at the Copper Shade Tree Round Top in Texas. Paul will make the trip to visit the exhibit and the International Quilt Festival as it was being held at the same time. He will return to the Quilt Festival in 2012 and 2013 and take a quilting class with Karen Combs entitled More Patchwork Illusions. He will finish the project in 2014 and thus begins his passion for 3D illusions.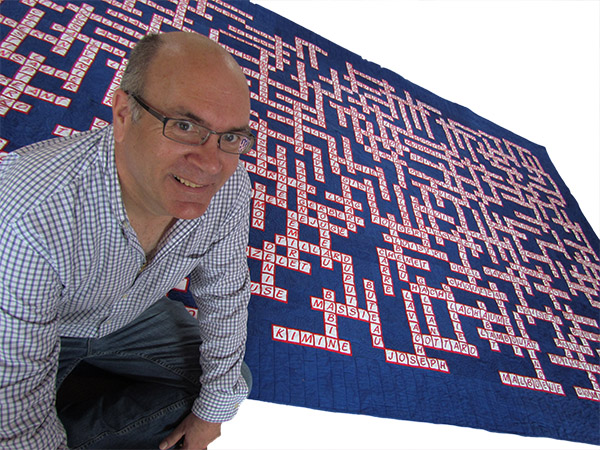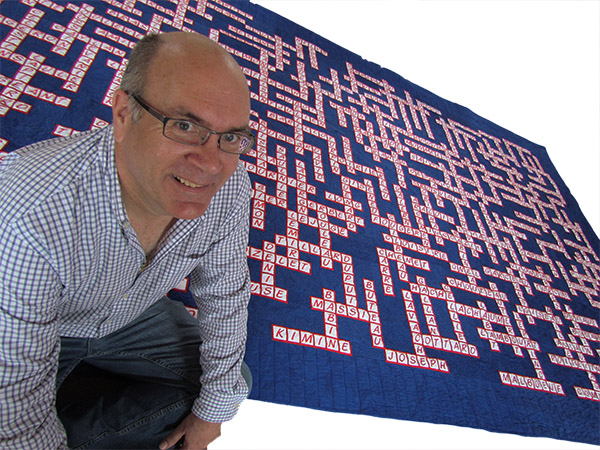 In May 2012, Paul donated a quilt entitled Nos Aïeuls to the University of Moncton's Acadian Museum. Paul's quilt honours the families who founded l'Acadie and includes the names of 305 of the 800 founding families. It reflects how these families have been linked by marriage, their communities and other events over the centuries.​  You might have seen an article on his quilt in QuiltMania.
It was only once he reached retirement that he asked Karen Combs for permission to teach her More Patchwork Illusions class. And that's how his new career began! After retiring from military and the public service, he has become an quilt Artist, Teacher and Lecturer.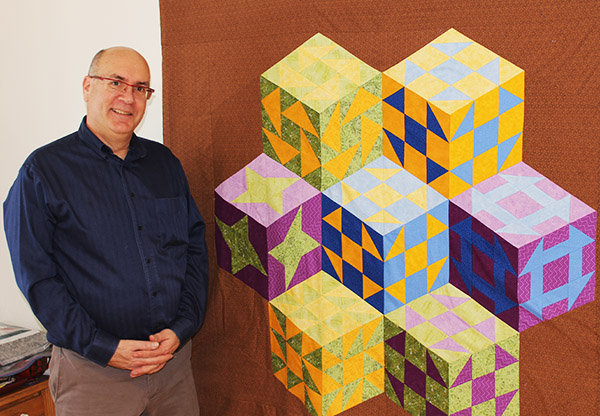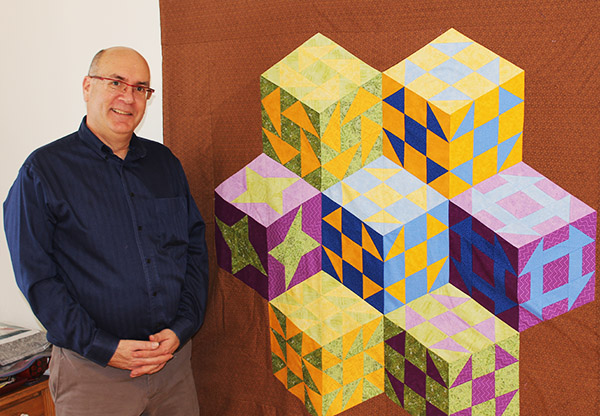 So glad that he is a part of our Canadian quilting community!