Here's how changing two things increased my creativity.  I am continuously surprised at my productivity this year.  Not only have I started many projects, but I have also finished a bunch.  After having made almost nothing in the past two years, I am really happy of my results.  What has changed?
There are two things that helped me increase my creativity: my sewing machine and my mindset!
CHANGING MY MACHINE FOR the fabulous PFAFF crative icon!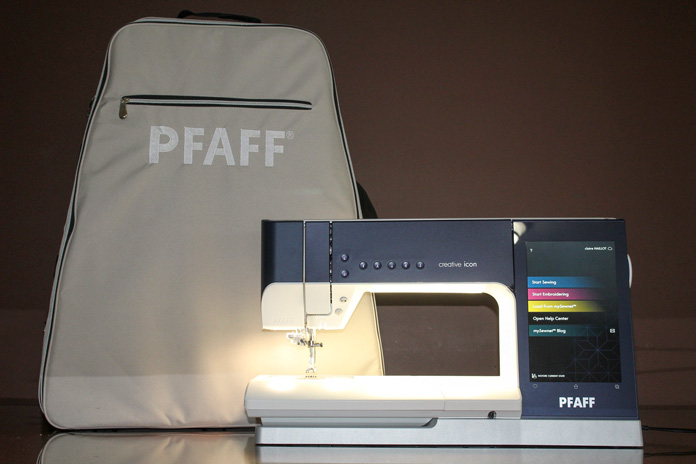 I am more than happy with the new PFAFF creative icon.  This machine is just amazing! It has lots of room and perfect lighting and the machine is built for accuracy.  You can follow along my praises on this fabulous machine on QUILTsocial as I am very proud to collaborate with them.
Changing my mindset to 2 hours a week!
That's my other big change in my mindset.  I used to think that I needed a full day in my studio to get things done.  It was so disappointing that I would get angry at everyone for never getting that time. That's when I finally decided in January to let my family know that I needed 2 hours a week in my studio to stay sane.  And I also added that they didn't have to be all at once.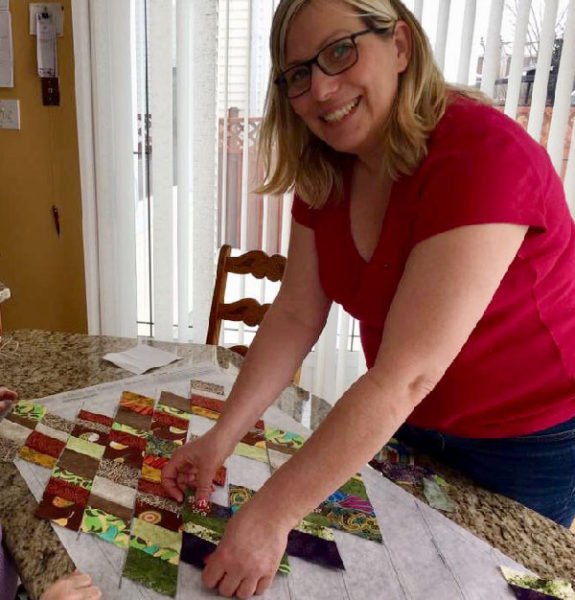 Being able to steal 15 minutes or 30 minutes here and there in the day to run off in my quilt cave and work on something… anything… boosted my overall productivity.
This also means that I have to stay organised.  Each of my projects have a box in which they lay and I will pick one to work on depending on my mood.  I also always keep a Dancing Diamond project on my pool table that is in the mounting stage. This enables me to simply stare at it when I only have 5-10 minutes.  I love this part as I can audition new fabrics and try them out for shape and color. You'd be surprised how well the pattern progresses in a week's time simply by having 5 minutes here and there.
I have to admit that my basement has never been this messy since I have taken over the space.  But I am so busy creating that I don't want to waste any time away from that. It was however one of my goals in August to clean the space up. I like to re-organize twice a year. And to my big surprise it was my son who volunteered his time to clean up my studio.  This enabled him to get the pool table back and have a clean environment to invite his friends over since they were all on school break. Can anyone see the irony here?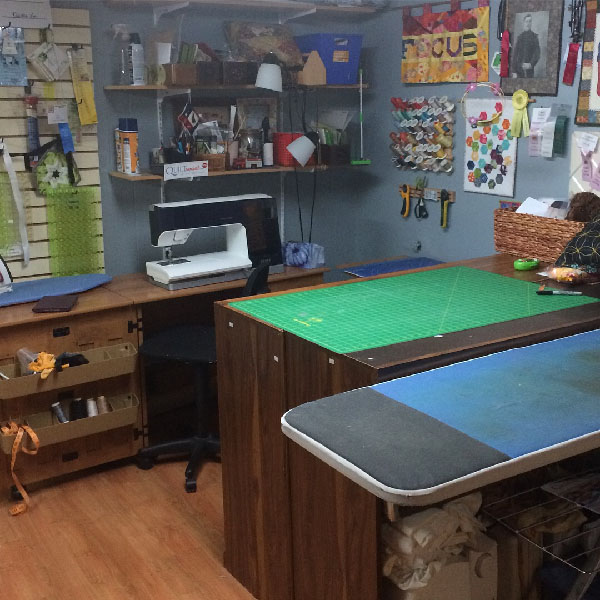 During my last workshop a student commented "you must have lots of time in your studio to do all of this!" and that's when I realized that it was quite the opposite and thought people should know.  I was the first to think that I needed lots of time to be productive. But the more I speak to quilters and the more I realize that it's quite the opposite. My most productive customers were the ones that probably had the most hectic lives!  The secret was that they scheduled their time to quilt and committed to it.
I work full time and have three kids ( 9 – 12 – 16) which means that I am constantly busy doing something.  So trying to get a full day to quilt will happen perhaps twice a year if I am lucky. Now I simply aim for 2 hours a week and it works!
Am I afraid that I will have nothing left to do?
Absolutely not!  I have 10 other projects already on the go.  The good news is that they are spread out is many stages: drawing, cutting, sewing, quilting and binding.  So I can always pick the project depending on what I will like doing.
I hope this helps you be more productive in your quilting journey. Please do leave a comment saying what keeps you on track!  I am also going to try posting a quilt finish on a regular basis on my blog to help us stay creative. Casue after all, it' not about being motivated, it's about having the creativity!