In the past I have always found February to be a weird month and thanked God that it was a short one.  It was the month where I would have the most quilt design inspirations!  I would wake up in the middle of the night just to sketch a pattern I dreamed about, or write an idea that was just screaming at me during my sleep.  All of those ideas would keep me busy all year long.  I would always dread January as I was afraid of not having so many wonderful ideas.  Sure enough, February would arrive and it would start all over again.
At first I thought that it was simply because it was the month where I had to close my books and do my year end reports for the company.  I really hate accounting and it was taking up most of my time.  So I thought that my creative side was feeling left out in the day and was pouring out in my sleep to compensate.
So this year I was expecting to not have any spur of creativity as I haven't had much accounting to do ( I don't have all the stress of the brick & mortar quilt shop anymore).  But much to my surprise, it's quite the opposite.  It actually started earlier in January and I it's not slowing down.  And I think I have the right reason:
January and February is the dead of winter here in Montreal.  When we leave our home, we are surrounded by snow…   Don't get me wrong… I LOVE winter!  Love the snow…. But it's WHITE!  All white!  Only white!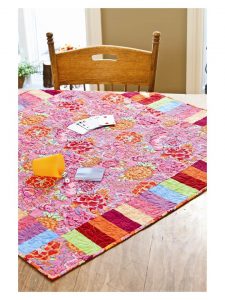 Even though I grew up here, my parents come from France and I have spent many summers in Provence at my grand-parents place.  Provence is full of colors: from the red poppies in June to the lavender in July, not forgetting the yellow sunflowers or burgundy cherries… And then there are the traditional fabrics in all the bright primary colors.  If you are planning a trip there, please do visit the Souleiado museum.
So when I am home in the middle of winter… my brain craves all the wonderful colors from my childhood and I start designing quilts reflecting them.
Now back to our word of 2017:  EXPERIMENT!
How did you do? Have you cleaned up your studio and organized your scraps?
If yes!  Congratulations!  You are well on your way
If life got in the way, I understand.  But don't despair and keep at it.
Now I want you to experiment with colors for the month of February.  Try a project using a color you have never used before, I dare you to try with a color you actually hate!  I did that one year and it was my first pattern that got published by Quilter's World!  My good friend Cinzia also made a quilt using blue fabrics (I don't understand why she hates blue) and it was selected for the "Best of Quiltcon" Travelling Quilt Show in 2013.  I've decided that I was going to experiment using all the colors of the rainbow… blog coming soon on that subject.
So go ahead and try it out!  Send me pictures please!
Now let's talk about my FABRIC OF THE MONTH suggestion.
Here is my thought process behind my fabric of the month: we all know that February is the month of love as it's Valentine's day on the 14th!  (just in case you weren't sure).  So I thought it would be a good idea to introduce some red fabrics.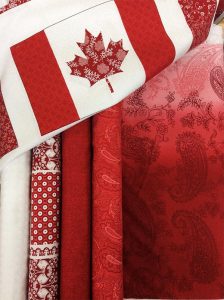 Also!  This year is special to us Canadians!  We are celebrating our 150th
birthday.  In order to celebrate, I thought we should find some fabrics that has our Canadian red maple leaf.
I was soooo excited when I saw that Henry Glass had a new collection just for us Canadians!  I just had to present it as my February Fat Quarter Bundle.
Hope you like it!  Order quickly as quantities are limited, I will start shipping mid February.