I have made it back home from Spring Quilt Market in Salt Lake City and took some time to rest after a hectic schedule which included a sprint run in O'Hare airport to make my connecting flight home.  I had such a great time and met so many wonderful people that it will be difficult to keep this blog short.
The exciting news is that I finally launched my new pattern Dancing Diamonds and you can order your copy from PlumEasy Patterns.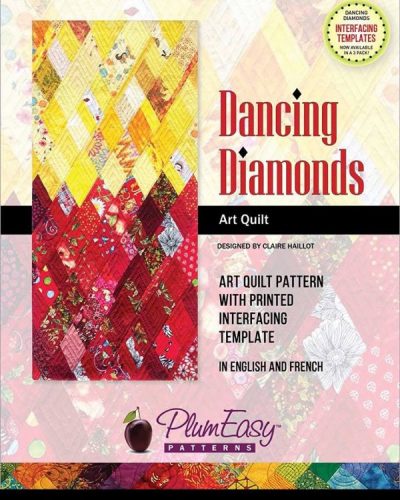 I just loved introducing my pattern during schoolhouse and everyone loved the story behind it, so I thought you might want to hear the story as well!
It started on my plane ride home from Houston Quilt Market last October. I was writing an article for Quilter's World about Deborah Miller.  It's not too late to get your copy! Deborah created PlumeEasy Patterns when she decided to publish her Folded Star Hot Pad pattern.  She had developed the pattern for herself and realized that it was a great pattern and it should not die with her.
That resonated with me and I started to think about my quilting legacy!  I didn't want to be remembered by any of the quilts I had finished during the year and I knew exactly what quilt I wanted to be my legacy.  But it was still in the drawing stages.  I had made several samples but couldn't quite get it to work!  It wasn't idiot proof and that's what I like.  On the plane ride home I started thinking that I needed a template to make the pattern and Deborah was the best person to help me out.
I contacted Deborah as soon as I got home.  I used my kid's geometry kit to make the artwork on a loose leaf paper (while helping him do his geometry homework of course!) took a photo and e-mailed it to her.  A few weeks later a package was delivered to my home with the first mock up of the template.  That was early November and, believe or not, my quilt that I had been dreaming about for 2 years was finished for Christmas!
I was so excited that I shared my work with Deborah on New Year's day.
And the rest as they say is history!
I just loved how all the projects looked in the booth.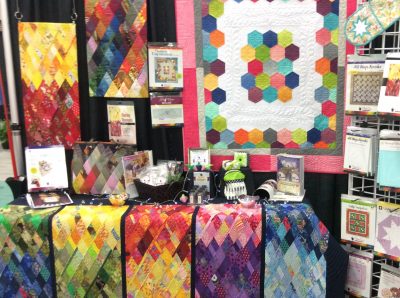 And Deborah's purse was simply adorable!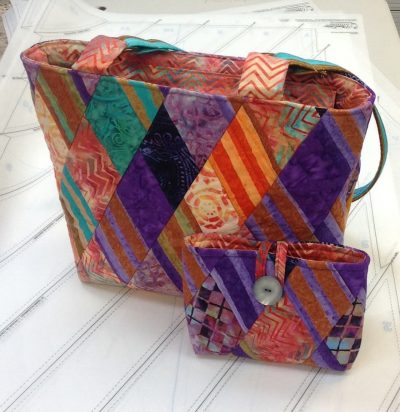 I had the pleasure of signing a few patterns of Friday and got to meet so many people.  Everyone seem to love my pattern as much as I!  They can finally use their fabric stash and create an art quilt wall hanging or transform the piece into something else.
When the Quilt Market was finally over, I was able to do something I had been longing to do since I finished the quilt!  Sleep with it 🙂