Three years ago, Victoria Findlay Wolfe invited her readers to choose a word that would be 'their guiding light' for the year and to make a banner for it.  My dear friend Cinzia has been making a banner every January since then.
I always admired Cinzia for taking the time to find the word and make the banner.  I have to admit that with my schedule, this was on my wish list only.  And while having breakfast in January with Cinzia, I asked for the third time if she had chosen her word for the year and she said yes and was working on it.
I thought to myself:  If I could just find some ME time again and focus on a word, I could do it too.  That's when it struck me:  FOCUS!  That should be my word for 2016.
Whenever I had some alone time, I would start working on the project.  Making the banner itself was not a difficult task… it was actually following my new guiding light: FOCUS.
I figured that making the banner on my me time would mean that I would not have to follow any rules, didn't have to write a pattern while I was designing it and I could use scraps from my leftovers from other quilts.  I printed the letters so that I could use them doing paper piecing and ended up using half of them only… I decided to focus on having fun and not caring as much about perfect seams.
Now the other challenge was to find some me time.  Since January, I had made 3 letters only.  But Sunday afternoon my husband left on a business trip, my six year old was at a friend's house, my nine years old was watching TV and my thirteen years old was watching whatever on You Tube… I seized the moment and ran into my quilt cave!
I worked really hard to stay focused on my task at hand and two hours later came back up with my banner.  Just in time to start dinner and pick up my youngest at his friend's.
This was a proud moment.  Nobody else even noticed, but that's ok.  This year, it will not be about multi-tasking:  I will focus on one task at a time.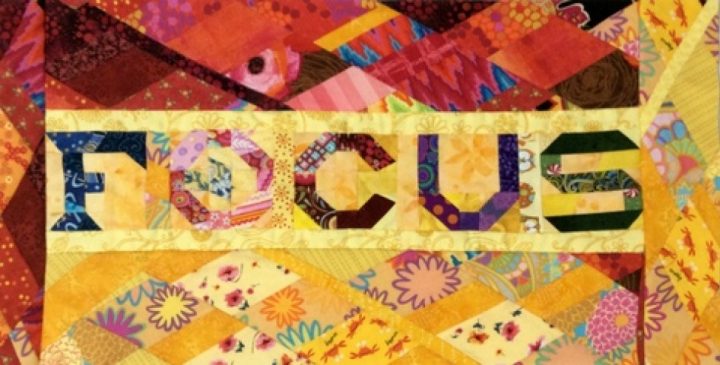 Now I have to clean up the mess in my quilt cave… Don't know how that happened 😉