I have always washed my fabrics before making a quilt, and most of my students follow my advice.  However there was a few that
disagreed, but my recent mishap has convinced all.
Let's start at the begin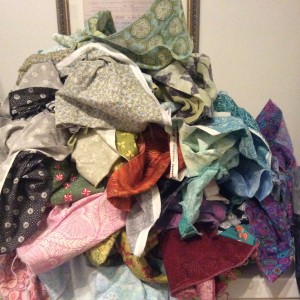 ning  by explaining why I have always prewashed my fabrics.  Since we work with 100% cotton fabrics, I strongly feel that we need to get it to shrink before we start our quilts.  And cotton will shrink with the heat in the dryer.
I don't feel the need to wash in warm water, I have a lukewarm setting on my washer, but I do use the dryer (cotton setting).  When a student hesitates, I ask who will the quilt go to?  If it is for a child, you can bet the mother will wash in cold and use the dryer.  Being a mother of 3 young boys I can vouch that the first night they will sleep with a new quilt, there will be an accident. I remember having to wash a brand new quilt at 2A.M.  And when a child is sick, we don't hesitate to just throw it in the wash and in the middle of winter… who will try to hang out to dry?
Another reason?
Well imagine you just finished a queen size quilt for a present and it fits perfectly on the bed.  But the first time it is washed, it will shrink about 5%…. if your quilt is 97'' wide, that's almost 5'' and it's just enough to see the mattress popping up on the bottom of the quilt.
Still not convinced?
Although manufacturers have made tremendous efforts to ensure that the dyes are cured, which means cooked enough that they do not bleed.  You still have the primary colors magenta and cyan that can never be cured enough.  So if you are working on a redwork, please pre-wash and ensure that your fabrics don't bleed before beginning, or at the first wash you will have a lovely pink quilt.  All the batiks lines are hand dyed and no matter what color they are, they will bleed.
So for all these reasons I recommend to wash your fabrics, I often say just with water if you are sure that they won't bleed (if they do, try retayne or our grandma's trick with vinegar), but please wash and machine dry your fabrics even if you think you will never wash or dry again.
Having said all this, I still have students that like the feel of new fabrics, they are crisp and when making a wall hanging, they want to keep that feeling.  I was stumped!  I knew it was wrong but couldn't say why… But now I know.
I had the misfortune to burn my inner wrist on my right arm with steaming water while cooking.  I have always said I prefer quilting over cooking!  At first I didn't think much about the burn and continued my daily routine.  Four days later, a student who happened to be a nurse saw my burn and strongly recommended that I see a doctor. I listened to her sound advice and I found out I had an infection.  They took great care of my infection but a week later, there was no improvement, quite the opposite.  When they finally asked me what I did for a living, they recommended that I stay away from fabrics.  Why?  Can you believe that fabrics are considered a hostile environment!  I couldn't believe what I was hearing.  When speaking with another quilting friend, she told me that her grandmother died from an infection.  She was a seamstress that had cut her finger while working but continued to sew and the dyes and chemicals in the fabrics infected the wound.
So consider this the next time you begin a quilt without washing the fabrics…Would you wear brand new intimate apparel before cleaning it?