April fool's Day
I can't believe it's already been five years since I have made my Thomas goes fishing quilt!  And it all started on April fool's Day in 2011.
I had a monthly club meeting happening with a group of quilter's that wanted to share in my design experience.  We would meet once a month and I would show them what I would be working on and they would test the pattern.  They also challenged my work on numerous occasions, and this quilt is a good example of the great designs they helped me make.
It all started at the end of our March meeting.  They all asked what I had planned for our next meeting on April 1st.  I didn't know what to answer… nothing was set in my mind and I hadn't had that CLICK that usually happens when I am ready to start creating.  They couldn't believe that I had nothing in the works!  We had been meeting since September and I had never said that horrible word.  They weren't ready for it.  So every other day one of the members would call me to see if I had thought of something.  After a couple of weeks it was really starting to be nerve racking.  The culminating point happened one evening when I was working on my EQ7 software to come up with a design and my son came up to me and asked, as if his life depended on my answer: "What are we doing for April 1st?"
That was it… they got to him too?  How could it be?  I looked at him and replied: "Why is it so important to you what I do on April 1st?" and he replied "I want to beat dad at the biggest prank!"
That's when I realized that April 1st was also April fool's day.  Now what you probably don't know is that in French we actually call April fool's day: April's Fish day… I know it doesn't make any sense to you but it does to them.  My husband having a very good sense of humour started my kids on this ritual at a very young age.  My back would be covered with fishes and I would pretend that I didn't notice just to see my kids face light up and giggle while sharing secrets with their dad.  Legend be told: my husband's dad once placed a fish in a boot of his child on that day.  So the ritual comes from a long line of pranks.  Since I have absolutely no sense of humor (according to my family of course) I looked at my son and had my designing moment!
Let's make a Fish block pattern and prepare a place mat for him!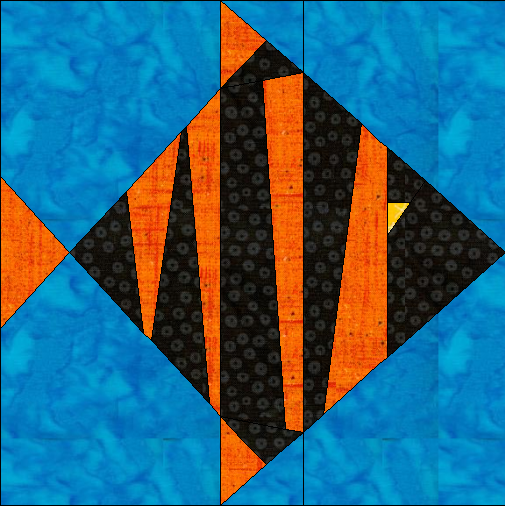 As usual, my son rolled his eyes and went back to his room to come up with a prank on his own.
But I immediately started working on a block on EQ7.  The next day I called the members up to let them know that I was ready to meet them on April 1st.  They were very happy to work on a fish block but said they didn't want to make a place mat.  That would be too boring for them.  We should make a bed size quilt with this block.
I had made a Fish theme quilt already and had always loved it and would one day see it in my son Adrien's room.  But he shared his room with his youngest sibling Thomas which didn't have a fish theme quilt.  So why not make a quilt for Thomas?  I went back home and started playing with different ideas and decided on a horizontal style quilt theme so that I could feature a lovely collection of fabrics that I had found featuring beautifully colored fishes.
We worked on the project during three meetings.  Everyone loved the pattern as it was catered to a confident beginner.  Colleen found a super quilt design for the piece.  She quilted fishes that looked like a fish whichever sides the quilt was laid out.  The quilt was a huge success! A French magazine featured it on their cover page in April of 2012, the quilt won a juror's choice awar at a State show and it was also in a book called Quilts, Longitudes & Latitudes by Annie's Publishing (2014).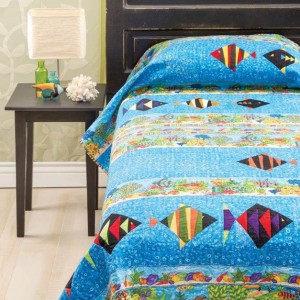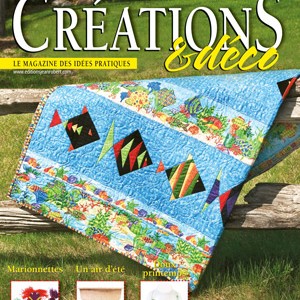 The quilt design being so easy to make, I even made another block version with flowers to show that the design can cater to every mood you wish.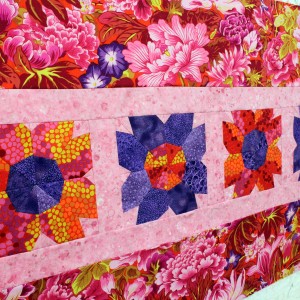 Hoping this will help you in your creative process.
Happy quilting and Happy April fool's day!