It was on April 27th of 2019 that I ventured in the Laurentians to meet up with my dear fellow quilter Dominique Ehrmann. She had invited me to come over to see her latest piece entitled "Time to Break Free" before it left for a six month show in Cape Cod.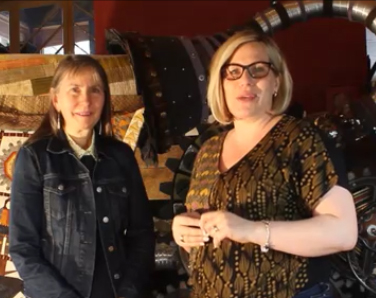 Now this is not the first time I write about Dominique on my blog, but her work does merit another blog post… trust me! She happily agreed to a video interview and was very generous of her time. I truly hope you will find the time to break free of your busy schedule to watch it completely. I've always enjoyed working with Dominique, she always finds a way to make everything look spectacular. She has a vivid imagination and nothing's impossible. I love her strength and character.
Breaking free
A few weeks after the interview, I had to set all my projects aside and prepare my move as I was going through a divorce. I was finally breaking free! I apologized many times as I really wanted to publish the interview last summer so that you would want to go and see her special exhibit at the New England Quilt Museum. Dominique, who's known me for many years, understood completely and held no grudge. That's what friendships are all about. Sticking together, come rain or shine.
So without further ado, here's the interview.
Thanks again Dominique for this wonderful day! And hope we get some time to break free together sometime soon!