I've always wanted to find out more about my fellow quilters and I was happy to come and meet the Lennoxville Guild members during the annual quilt show on September 7th, 2019 in Sherbrooke.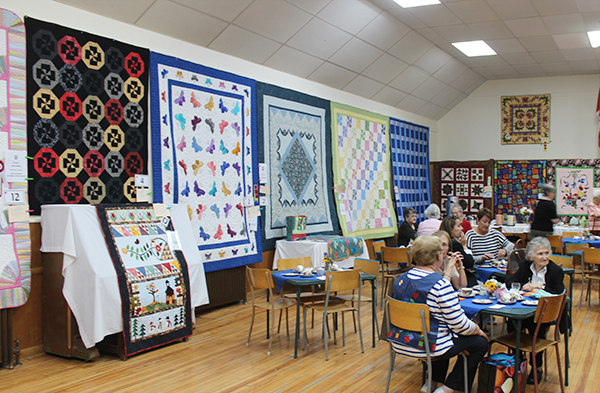 Blast from the past Interviews
My first interview during the Quilt Show was with Hazel Kerr. Talking with Hazel taught me what it was to be a quilter back in the 50's and 60's. Follow along to learn about her creative process and how it evolved from tying string on crazy quilts to creating beautiful landscape souvenir quilts.
My second interview was with Heather Stewart and Margaret Littler, the charter members of the guild. Talking with them allowed me to step back in time and see what it meant to want to be a quilter back in the 80's.
While making these interviews, I realized that some things really haven't changed: our passion for quilting, our need to socialize as well as the lack of time due to marriage, kids and work. But some things were definitely different: there were no rotary cutter, no sewing machine and no cotton! Can you imagine! If we think it's tough to be a quilter today… we have no idea how good we have it!
Please do look at the interviews and see how quilting and guilds have evolved, or should we say rebelled, to become what we are today!
INTERVIEW WITH QUILT SHOW WINNER:  violet Bennett Main
After these interviews, I went to see the quilts in the show and met with the Award winner Violet who received the Lorna John prize for her quilt Friendly Birds & Butterflies.
I was out of my comfort zone setting up in a crowded area where the lighting was not so good. And thank God I had splurged on microphones cause you wouldn't have heard a word from Violet. I also had not prepared any of my questions, so I was really going along with the flow.
Violet won the prize for her magnificent piece she made for her grandson. The birds are based on a book by Carol Armstong called Wild Birds.
I'm hoping you enjoy the interview.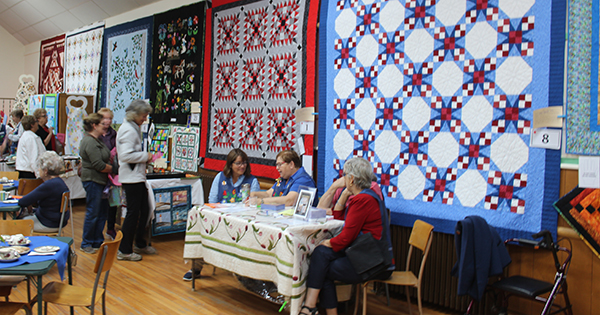 It was so much fun to go and meet these wonderful people at the Lennoxville Quilt Show. I truly had a blast… especially during the curly vs straight hair debate. You just had to be there.