This blog is all bout my 3 quilt challenges for 2021 and why I'm doing them. Much to my surprise, I've never blogged about the quilt challenges I set for myself every new year! It's a ritual that I've been doing for several years to push myself to become better at it! If you read all my blogs carefully, you will see that I still talk about it on a regular basis. 
"I always set myself a few goals at the beginning of the year. I choose  completely different projects to push me out of my comfort zone!"
 You can laugh… or raise your eyebrows thinking that' it? … but believe me, it may be very simple yet it's highly effective.
A look back at my quilting challenges of the past years
When I first started these challenges, say about 12 years ago, they were very modest ones. I remember challenging myself to make a quilt out of the flying geese block because I hated making them. Eventually, I did several projects and it helped me understand why I was having such a hard time doing them and I found a lot of stuff that I then shared in my classes.
In 2011, my challenge was to create patterns using the paper piecing technique. So I finally learned this very simple technique, yet complex if you suffer from dyslexia. It was during this challenge that I created Thomas goes fishing which earned me my first Jury's Choice ribbon at the 2012 Show (check out the video at 1:12 minutes).
In 2012, I accepted to venture into the making of a Lone Star. And in 2013 my challenge was to stop being afraid to machine quilt on my own. I must admit that this challenge took me more than a year to complete. And it's important to be aware of this so as not to get discouraged… As long as we see progress in our work, that's what counts. So this challenge, I continue to lead it in conjunction with other challenges since it only involves the end of projects… I have to create pieces so I can machine quilt them.
You could imagine that I have reached the point where I don't need to take on new challenges! Well, it's quite the opposite. I find that I need challenges to keep me motivated and creative. Since I already have enough quilts in my closets to cover my beds…. I have to find new interesting projects to do otherwise I will prefer other non-quilt-related projects… Like the piano!
And here are my 3 quilt challenges for this year:
1 – Hand appliqué with wool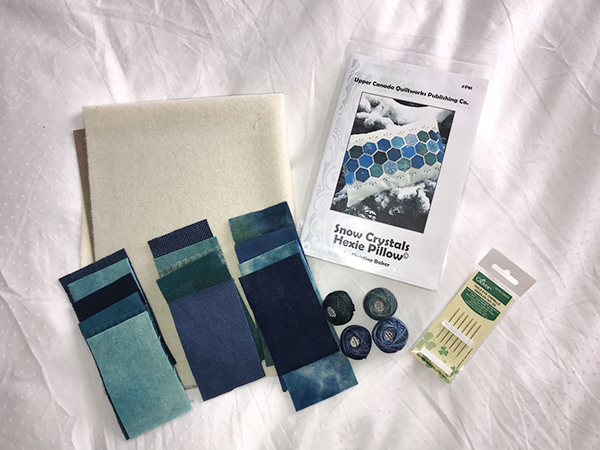 For my first challenge, I contacted Upper Canada Quiltworks to help me create a small wool cushion that will match my bed runner created for QUILTsocial last year. Christine Baker is one of the owners and specializes in hand-dyed wools, wool kits, embroidery, hand sewing, needle felting, punchneedle and all the necessary supplies. She has written numerous books and patterns on the subject. 
Once I explained my project to her, she created a personalized kit including wool, threads, needles and pattern. I received everything in the mail quickly and it was perfect!  She suggested a modern cushion model with colors that would match perfectly with the colors of my room. This is a project that I will make when relaxing at the cottage. And I know that Christine will never be far away for a little virtual coaching!
2 – Ariel pattern by Lise Bélanger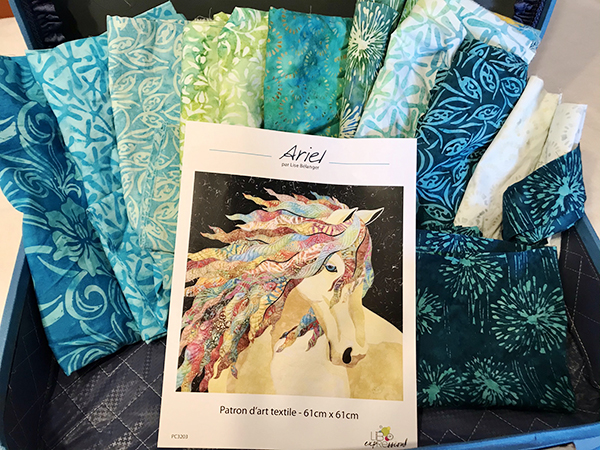 My second challenge is to create Lise Bélanger's art quilt pattern Ariel. The wall facing my bed is very large and empty! I unfortunately couldn't find any of my quilts that fit the decor. When I saw this @LibExpression post on social networks, I immediately understood that this was what I needed on my wall as the main decorative element. 
So I ordered the pattern and plan to make it using the leftover fabrics of my Little girl in a blue armchair fabric from Anthology Fabrics which is the collection chosen to create my bed runner so that the piece fits perfectly in my bedroom. Having just completed two artistic quilts last year, I feel ready to take up this challenge. And I know that Lise will never be far away if I need a private lesson! Long live Zoom 
3- Kaffe Fasset again and again!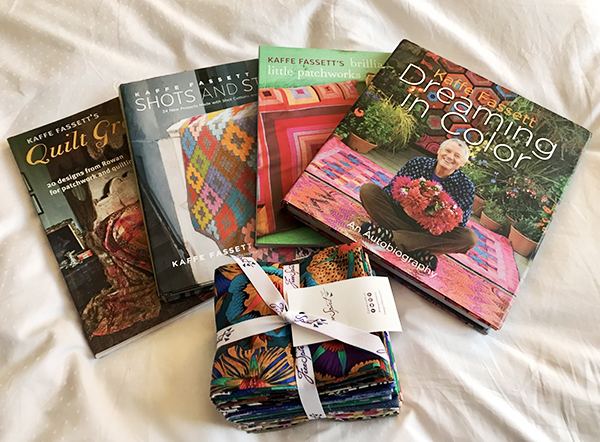 Impossible to resist! I ordered a kit of Fat Quarter from his fall 2020 collection and I also ordered a kit from his spring 2021 collection. Count me in for hours of pleasure and relaxation in creating a quilt featuring all of his beautiful colors.
I have almost all of Kaffe Fasset's books and I even had the pleasure of meeting him to sign one of his books for me. I will choose a pattern at random from one of his books and let my creativity run free. This will be a project that I wish to do in small doses, without too many calculations. My goal is to simply highlight all his beautiful fabrics.
This sums up my 3 quilt challenges for this year. What about you? Which challenge do you plan to take up this year?