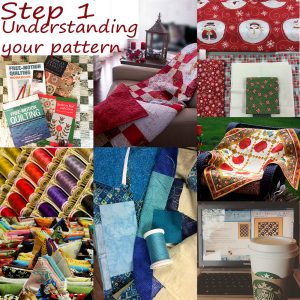 As promised, we will be spending the last twelve weeks of 2016 featuring the 12 steps to successful quilt making.  Perhaps you can use these steps when preparing your holidays gifts.
Here is the first Essential key:  UNDERSTANDING YOUR PATTERN!
Please read the pattern from beginning to end, and ensure that you understand it.
 It would never cross your mind to try a cookie recipe without reading it completely beforehand to check the ingredients, baking temperature and time.
It's the same thing we recommend when starting a new quilting project.  Several students have even told me that they test a block with scraps to make sure there are no cutting mistakes before starting to cut the real fabric.
But I strongly feel that you need to go further.
Think of a conductor!
He knows every second of the music his orchestra will perform by heart. Before setting a foot on stage, all the instruments are in place, including the cymbals or gun shot that will occur at the very end. As all these sounds are expected, they are ready from the get go.
It is therefore important, even before you begin cutting your fabrics, to know every little detail about the choice of colors and fabrics, choice of piecing and quilting color threads, sandwiching method and quilting design you'll do. As each decision might affect a past, or future, step.
So take your time and have what we call auditions for choice of fabrics, threads and quilting designs. From experience I can tell you that many of my unfinished projects are in boxes for months, even years, because I have not planned everything from the start and I am stuck in my creation. My brain is clouding my judgment and I face huge doubts, so I procrastinate!  Knowing very well that if I took the time to finalize the entire project I could move forward.
So please have your CHECKLIST:
Select your pattern, read it carefully, and stick to it!
Ensure that the size is suitable for where it should go (please do check the mattress height on the bed)
Choice of fabric for your top piece
Quilting method (traditional, reversible or quilt as you go)
Choice of backing and batting
Choice of border (straight or curved)
Choice of binding(straight grain or bias)
Prewash all your fabrics (read earlier blog on the subject by clicking HERE)